Master TELENVI - Nadège - Indice de végétation (NDVI)
Indice de végétation sur la commune de Porspoder (29) à 10 mètres de résolution daté du 13 juin 2021. Le NDVI (Normalized Differential Vegetation index) est un indice de végétation basé sur la différence entre réflectance du proche infrarouge (8ème bande spectrale de S2) et réflectance du rouge (4ème bande spectrale de S2) le tout divisé sur la somme des deux mêmes réflectances. Cet indice exploite la signature spectrale de la végétation qui est très particulière, car elle montre un pic très marqué dans le proche infrarouge (pour une végétation bien développée), et une réflectance moindre dans la rouge. Plus d'informations sur la méthode : https://geosas.fr/metadata/pdf/Livrable_TED_Bosco_Mars2022_Bretagne_INRAE_Baghdadi.pdf
Simple
Alternate title

NDVI_Porspoder_nadege
Date (Publication)

2023-11-14T09:00:00
Edition

Continue
Citation identifier

fr-18007003900276-ndvi_porspo_nadege
Purpose

Les paramètres biophysiques de la végétation sont accessibles par télédétection optique. Ce sont des variables indispensables pour le suivi des cultures, en particulier pour l'évaluation du rendement, pour le suivi des pratiques agricoles ou l'analyse de la réponse d'une culture à des stress environnementaux comme la sécheresse. Elles constituent en effet des variables importantes du bilan hydrique, servant directement d'entrées pour de nombreux modèles de cultures. La revisite temporelle et la résolution spatiale de Sentinel-2 sont inédites et bien adaptées pour les applications agricoles, en particulier dans les zones où de fortes hétérogénéités sont observées. Les pays dont le paysage agricole est particulièrement morcelé comme en Europe ou en Afrique constituent de bons exemples d'utilisation. Cet indice peut servir à évaluer l'importance de la biomasse végétale ainsi que l'intensité de l'activité de photosynthèse. Le NDVI a été calculé en utilisant en entrée les images S2 corrigées des effets atmosphériques par le pôle de données Theia ( https://www.theia-land.fr/).
Status

Under development
Point of contact

| Organisation name | Individual name | Electronic mail address | Role |
| --- | --- | --- | --- |
| Master TELENVI - Institut Agro | Hervé Squividant | herve.squividant@agrocamus-ouest.fr | Originator |
Maintenance and update frequency

As needed
INSPIRE themes
Keywords
GéoBretagne v 2.0
Use limitation

Usage libre sous réserve des mentions obligatoires sur tout document de diffusion : "Source : UMR TETIS AgroParisTech Cirad CNRS INRAE"
Use limitation

Licence ouverte : https://www.etalab.gouv.fr/licence-ouverte-open-licence
Access constraints

Other restrictions
Use constraints

License
Other constraints

Pas de restriction d'accès public
Spatial representation type

Grid
Distance

10  m
Language

fre
Topic category
Description

Série temporelle sur la Bretagne
Reference system identifier

EPSG:WGS 84 / UTM zone 30N. (EPSG:32630)
Distributor
Distributor contact

| Organisation name | Individual name | Electronic mail address | Role |
| --- | --- | --- | --- |
| UMR 1069 SAS INRA - Agrocampus Ouest | Pole GéoSAS | | Distributor |
Distributor format
OnLine resource
Hierarchy level

Dataset
Conformance result
Date (Publication)

2022-06-17
Explanation

Non Evalué
Pass

No
Statement
Metadata
File identifier

ecd3c3a7-58ae-4f11-8cce-8b00d1e506c9

XML
Metadata language

fre
Character set

UTF8
Hierarchy level

Dataset
Date stamp

2022-11-30T18:52:52
Metadata standard name

ISO 19115
Metadata standard version

1.0
Metadata author

| Organisation name | Individual name | Electronic mail address | Role |
| --- | --- | --- | --- |
| UMR 1069 SAS INRA - Agrocampus Ouest | Pole GéoSAS | | Point of contact |
Overviews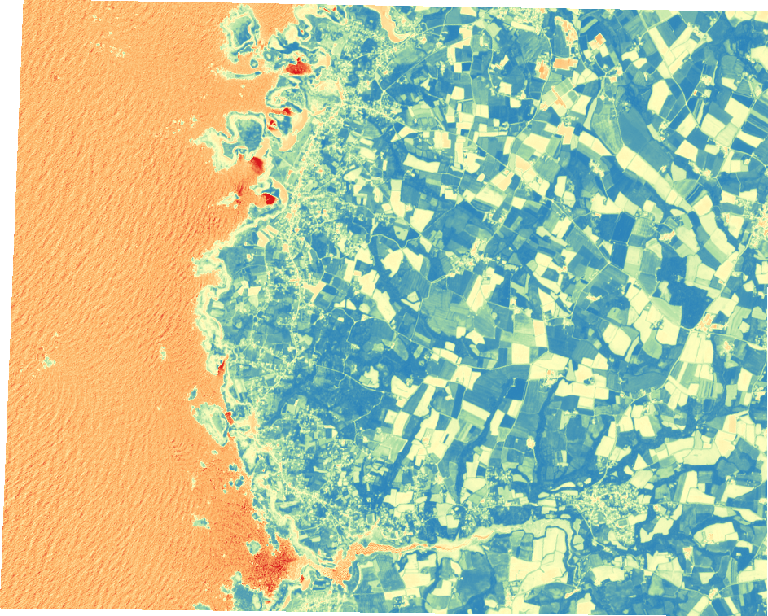 Spatial extent
Provided by
Associated resources
Not available