Parcelles des personnes morales en Bretagne
Les fichiers des personnes morales recensent au niveau départemental les personnes morales qui apparaissent dans la documentation cadastrale, en situation du 1er janvier de l'année de référence (n ou n-1 selon la date de téléchargement), comme détentrices de droits réels sur des immeubles, à l'exception des sociétés unipersonnelles et des entrepreneurs individuels.
Les fichiers des propriétés bâties (locaux) restituent les références cadastrales et l'adresse des locaux, complétés du code droit, de la dénomination et de la forme juridique des personnes morales propriétaires.
Simple
Date (Publication)

2021-03-26
Citation identifier

https://geobretagne.fr/geonetwork/srv/fre/xml_iso19139?uuid=e9eedf44-2e72-43c3-b687-a70c4d1352f6
Purpose

Permettre la réutilisation en flux de la donnée retravaillée par la société Koumoul ( https://opendata.koumoul.com/datasets/parcelles-des-personnes-morales).
Status

Completed
Point of contact

| Organisation name | Individual name | Electronic mail address | Role |
| --- | --- | --- | --- |
| Région Bretagne | Service Connaissance et Dynamiques Territoriales | | Point of contact |
Maintenance and update frequency

As needed
GéoBretagne v 2.0
GEMET - INSPIRE themes, version 1.0
GEMET - Concepts, version 2.4
Theme

données ouvertes

propriétaire morale
Use limitation

Usage libre sous réserve des mentions obligatoires sur tout document de diffusion : "Source : Ministère de l'économie, des finances et de la relance - société Koumoul"
Use limitation

Licence ouverte v2.0 : https://www.etalab.gouv.fr/wp-content/uploads/2017/04/ETALAB-Licence-Ouverte-v2.0.pdf
Access constraints

Other restrictions
Use constraints

License
Other constraints

Pas de restriction d'accès public
Spatial representation type

Vector
Denominator

5000
Language

fre
Topic category
Reference system identifier

RGF93 / Lambert-93 (EPSG:2154)
Topology level

Abstract
Geometric object type

Surface
Distribution format

| Name | Version |
| --- | --- |
| ESRI Shapefile | 1.0 |
OnLine resource
Hierarchy level

Dataset
Conformance result
Date (Publication)

2010-10-23
Explanation

Non Evalué
Pass

No
Statement

Cette donnée est issue du retravail par la société Koumoul de la donnée de base fournie par l'Etat ( https://opendata.koumoul.com/datasets/parcelles-des-personnes-morales).




Elle a ensuite été croisée avec la couche des parcelles fournie par la DGFIP.
Metadata
File identifier

e9eedf44-2e72-43c3-b687-a70c4d1352f6

XML
Metadata language

fre
Character set

UTF8
Hierarchy level

Dataset
Date stamp

2022-02-02T12:03:54
Metadata standard name

ISO 19115
Metadata author

| Organisation name | Individual name | Electronic mail address | Role |
| --- | --- | --- | --- |
| Région Bretagne | Service Connaissance et Dynamiques Territoriales | | Point of contact |
Overviews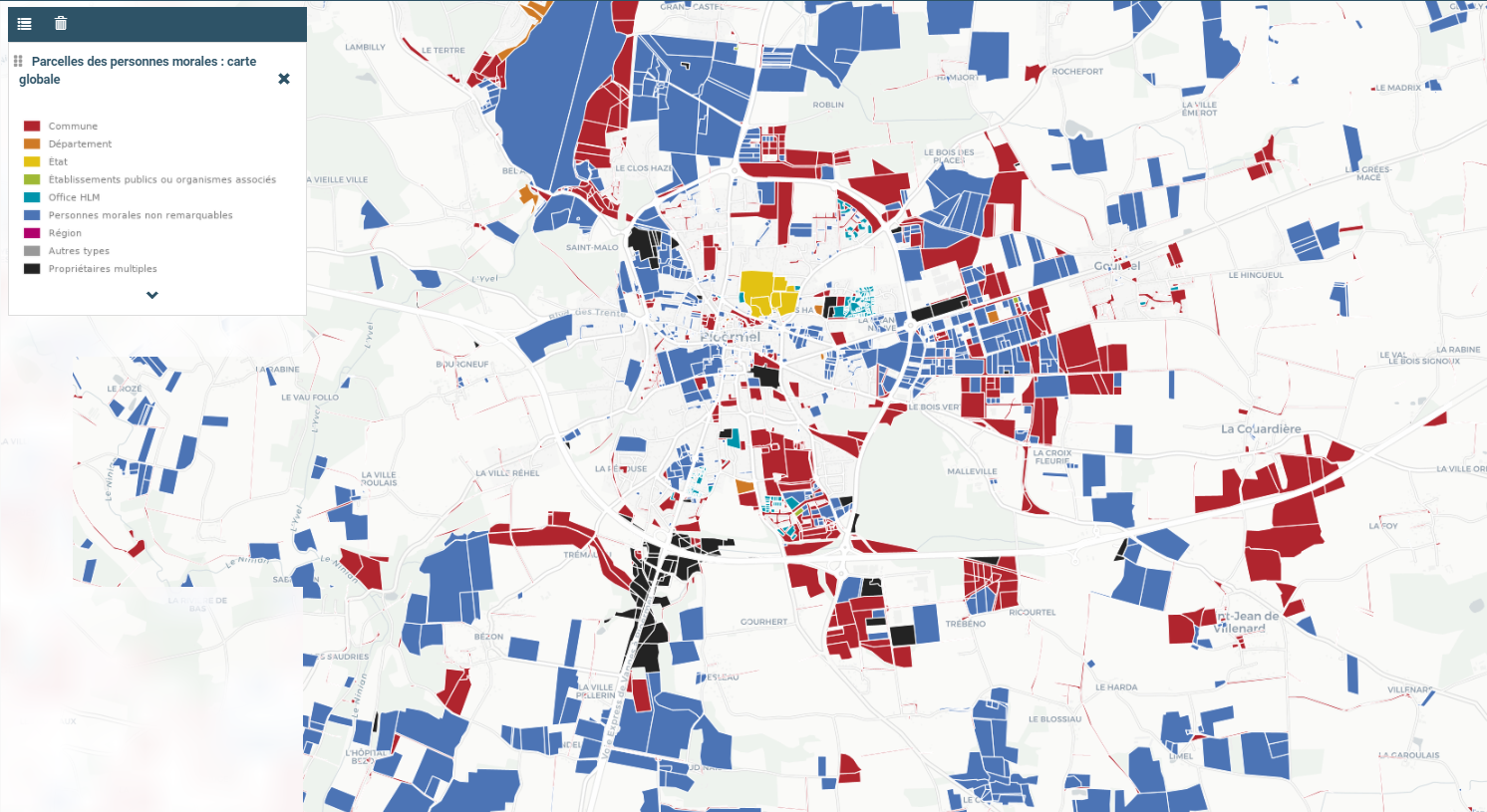 Spatial extent
Provided by
Associated resources
Not available