Produit Copernicus Zones riveraines sur l'occupation et l'usage des sols et leurs changements (tous les 6 ans depuis 2012)
Les zones riveraines représentent des zones de transition entre les écosystèmes terrestres et aquatiques, caractérisées par des conditions hydrologiques, pédologiques et biotiques distinctes et fortement influencées par l'eau des cours d'eau. Elles assurent un large éventail de fonctions riveraines (filtration chimique, contrôle des inondations, stabilisation des berges, soutien à la vie aquatique et à la faune riveraine, etc.) et de services écosystémiques.
Les produits "Zones riveraines" Copernicus visent à soutenir les stratégies de l'UE en faveur de la biodiversité à l'horizon 2030, les directives "Habitats" et "Oiseaux" et la directive-cadre sur l'eau.
Les produits "Zones riveraines" Copernicus vous permettent de suivre et comparer les évolutions spatiales et temporelles de l'occupation et l'usage des sols (OS/US) des zones riveraines des cours d'eau. Les zones riveraines sont ici définies par une zone tampon autour de rivières de rang de confluence de Strahler de niveau 2-9. L'OS/US est cartographiée en 55 classes thématiques harmonisées avec Corine Land Cover. La précision thématique globale est supérieure à 85% (prise en compte de l'occurrence relative des différentes classes) et la précision géométrique inférieure à 5m. L'unité minimale de cartographie (UMC) est de 0,5 ha.
Les produit "Zones riveraines" proposent des cartographies de l'OS/US tous les 6 ans depuis 2012, et des cartes de changement d'OS/US entre 2 dates consécutives.
Les produits "Zones riveraines" sont produits par le service "Territoire" du programme européen d'observation de la Terre Copernicus. Cette fiche vous donne accès aux flux WMS et aux liens de téléchargement des données sur le site Copernicus. Pour l'affichage des flux WMS, le produit raster s'affiche à de faibles niveaux de zoom et le produit vecteur à de forts niveaux de zoom.
Simple
Date (Publication)

2019-03-26T00:00:00
Citation identifier

https://geobretagne.fr/geonetwork/srv/fre/xml_iso19139?uuid=dd48682c-0339-4bb5-8984-f67cea6b2f28
Status

Completed
Point of contact

| Organisation name | Individual name | Electronic mail address | Role |
| --- | --- | --- | --- |
| GIS BreTel | Marie Jagaille | | Distributor |
Date of next update

2024
User defined maintenance frequency

P6Y0M0DT0H0M0S
Maintenance note

Mise à jour tous les 6 ans
GEMET - INSPIRE themes, version 1.0

Occupation des terres

Habitats et biotopes

Usage des sols
GEMET - Concepts, version 2.4

satellite

occupation du sol

classification d'image

satellite d'observation

biophysique

classification de l'usage des sols

zone riveraine

image satellite

traitement de l'image
Theme

ImageryBaseMapsEarthCover

Copernicus

Sentinel

Sentinel 2

satellitaire
Theme
Place

Bretagne

Morbihan

Ille et Vilaine

Côtes d'armor

Finistère
Use limitation

Usage libre sous réserve des mentions obligatoires sur tout document de la source
Use limitation

CC BY 4.0
Access constraints

Other restrictions
Use constraints

License
Other constraints

Pas de restriction d'accès public
Spatial representation type

Grid
Denominator

100000
Language

fre
Topic category

Imagery base maps earth cover
Reference system identifier

RGF93 / Lambert-93 (EPSG:2154)
Geometric object type

Solid
Distribution format

| Name | Version |
| --- | --- |
| GeoTIFF | 1.0 |
| JPEG 2000 | 2.0 |
OnLine resource
Hierarchy level

Dataset
Conformance result
Date (Publication)

2010-10-23
Explanation

Non Evalué
Pass

No
Statement

Classification semi-automatique de données satellitaires à très haute résolution spatiale (THRS) et amélioration par interprétation visuelle assistée par ordinateur, et par intersection des résultats de la classification avec des données supplémentaires (Corine Land Cover, degré d'imperméabilisation, densité de forêt, Atlas urbain).

L'interprétation visuelle des classes suit la nomenclature prédéfinie sur la base de la typologie Mapping and Assessment of Ecosystems and their Services (MAES) des écosystèmes (CODE Niveau 1 à Niveau 4) et Corine Land Cover.
Metadata
File identifier

dd48682c-0339-4bb5-8984-f67cea6b2f28

XML
Metadata language

fre
Character set

UTF8
Parent identifier

Produits Copernicus pour le suivi des territoires

8b8ce4fc-a05c-4ff1-ab9a-b6d5141e57a3
Hierarchy level

Dataset
Hierarchy level name

Collection de données
Date stamp

2022-08-02T13:58:35
Metadata standard name

ISO 19115
Metadata author

| Organisation name | Individual name | Electronic mail address | Role |
| --- | --- | --- | --- |
| GIS BreTel | Marie Jagaille | | Point of contact |
Overviews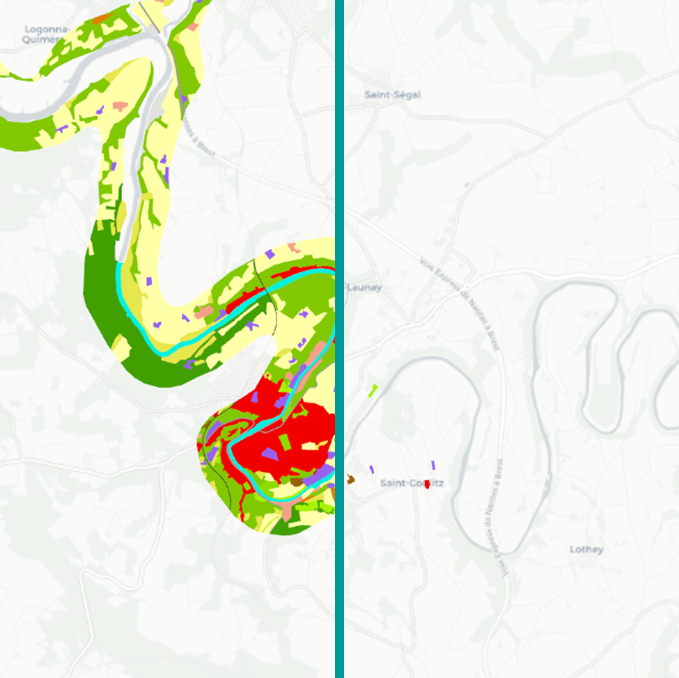 Spatial extent
Provided by
Associated resources
Not available