Imagerie spatiale RapidEye annuelle ORTHO-SAT® (2011, 2012)
Le produit "Imagerie spatiale RapidEye" fournit pour les années 2011 et 2012 une mosaïque d'images satellitaires à 5 m de résolution spatiale sur le territoire métropolitain. Ces images RapidEye, accessibles librement aux acteurs institutionnels et parfaitement superposables au RGE, permettent un suivi de l'évolution des paysages. A partir de 2012, la mosaïque annuelle couvrant la France métropolitaine est réalisée avec des images SPOT6/7. Les images RapidEye diffusées par DINAMIS ont été acquises par le projet Geosud dans le cadre de la Couverture France métropolitaine de 2011 et 2012. Tous les produits diffusés ont été orthorectifiés par le Service de l'imagerie Spatiale (ex IGN Espace). Depuis fin mars 2020, les 5 satellites RapidEye lancés en 2008 ne collectent plus d'images.
Simple
Date (Publication)

2022-05-25T00:00:00
Citation identifier

https://geobretagne.fr/geonetwork/srv/fre/xml_iso19139?uuid=dd11562d-15d7-466e-a20d-52ecbd74df83
Status

Completed
Point of contact

| Organisation name | Individual name | Electronic mail address | Role |
| --- | --- | --- | --- |
| GIS BreTel | Marie Jagaille | | Distributor |
Maintenance and update frequency

Annually
GEMET - INSPIRE themes, version 1.0
GEMET - Concepts, version 2.4

photographie aérienne

image satellite

satellite

satellite d'observation
Theme

ImageryBaseMapsEarthCover

ortho-imagerie

référentiel

référentiels : imagerie

satellitaire

composition colorée

copernicus régional
Theme
Place

Bretagne

Morbihan

Ille et Vilaine

Côtes d'armor

Finistère
Use limitation

Usage libre hors applications commerciales sous réserve des mentions obligatoires de la source : "Contient des informations © Airbus DS XXXX [année d'acquisition], © Production IRD, Irstea, IGN, tous droits réservés"
Use limitation

CC-BY-NC 4.0
Access constraints

Other restrictions
Use constraints

License
Other constraints

Pas de restriction d'accès public
Spatial representation type

Grid
Denominator

5000
Language

fre
Topic category

Imagery base maps earth cover
Reference system identifier

EPSG

/

RGF93 / Lambert-93 (EPSG:2154)

/

8.6
Geometric object type

Solid
Distribution format

| Name | Version |
| --- | --- |
| GeoTIFF | 1.0 |
| JPEG 2000 | 2.0 |
OnLine resource
Hierarchy level

Series
Conformance result
Date (Publication)

2010-10-23
Explanation

Non Evalué
Pass

No
Statement

Pour obtenir la couverture annuelle Rapideye, le Service de l'imagerie Spatiale (ex IGN Espace) a réalisé une mosaïque à partir d'images acquises par les satellites Rapideye. Les images RapidEye sont acquises à bord du satellite à 6,5 m (GSD) de résolution (au nadir) avec une plage dynamique de 12 bits par pixel. La résolution des pixels des produits RapidEye orthorectifiés est rééchantillonnée à 5 m. Les 5 bandes spectrales sont toujours acquises simultanément.
Metadata
File identifier

dd11562d-15d7-466e-a20d-52ecbd74df83

XML
Metadata language

fre
Character set

UTF8
Hierarchy level

Series
Hierarchy level name

Collection de données
Date stamp

2022-07-29T16:50:57
Metadata standard name

ISO 19115
Metadata author

| Organisation name | Individual name | Electronic mail address | Role |
| --- | --- | --- | --- |
| GIS BreTel | Marie Jagaille | | Point of contact |
Overviews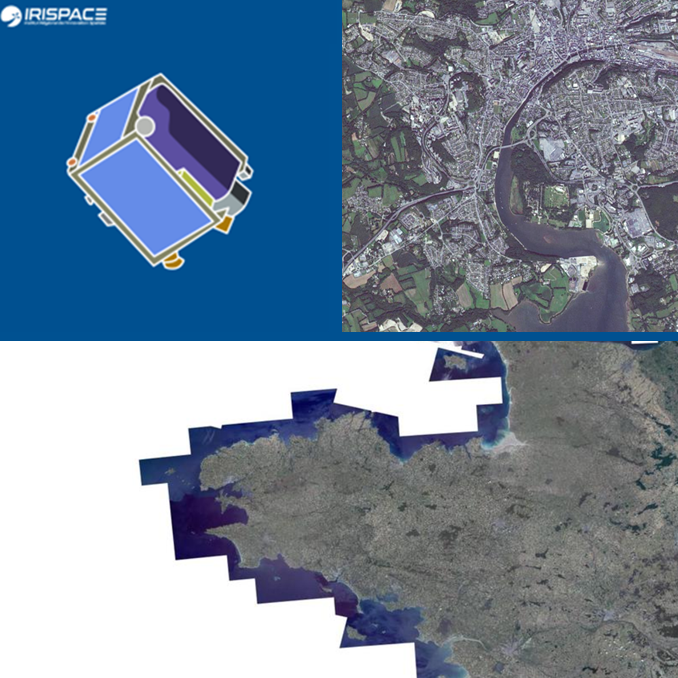 Spatial extent
Provided by
Associated resources
Not available