Uchádzači o zamestnanie podľa profesie (mestá/obce)
Uchádzači o zamestnanie podľa profesie (podiel v percentách).
Uchádzač o zamestnanie (UoZ) - je ním občan, ktorý môže pracovať, chce pracovať a hľadá zamestnanie a je vedený v evidencii uchádzačov o zamestnanie úradu a ktorý
- nie je zamestnanec,
- nie je v pracovnoprávnom vzťahu na základe dohody o práci vykonávanej mimo pracovného pomeru alebo nevykonáva zárobkovú činnosť na základe právneho vzťahu podľa osobitného predpisu,
- neprevádzkuje ani nevykonáva samostatnú zárobkovú činnosť,
- nevykonáva zárobkovú činnosť v členskom štáte Európskej únie alebo v cudzine.
Z hľadiska poslednej vykonávanej profesie pred zaradením do evidencie sa UoZ členia podľa národnej klasifikácie SK ISCO 08 (v súlade s medzinárodnou klasifikáciou ISCO-08) do desiatich hlavných tried (po kliknutí nižšie na "pridať k mape" je možné priestorovo zobraziť podiel UoZ v jednotlivých triedach):
0 - Príslušníci ozbrojených síl
1 - Zákonodarcovia, riadiaci pracovníci
2 - Špecialisti
3 - Technici a odborní pracovníci
4 - Administratívni pracovníci
5 - Pracovníci v službách a obchode
6 - Kvalifikovaní pracovníci v poľnohospodárstve, lesníctve a rybárstve
7 - Kvalifikovaní pracovníci a remeselníci
8 - Operátori a montéri strojov a zariadení
9 - Pomocní a nekvalifikovaní pracovníci
BPZBZ - bezprostredne pred zaradením bez zamestnania
Najznámejšie pracovne portály: www.profesia.sk, www.istp.sk
Po stiahnutí CSV súboru sú dostupné aj počty UoZ v absolútnych číslach.
Údaje sú dostupné za posledných 12 mesiacov a sú aktualizované mesačne - obecná úroveň
Zdroj: Ústredie práce, sociálnych vecí a rodiny SR
---English---
Jobseekers according to education (share in %).
A jobseeker - is a citizen who can work, wants to work and searching for employment and is registered in the Labour Office register of candidates for employment
In terms of the last profession before registering to jobseekers evidence, jobseekers are classified according to the national classification SK ISCO-08 (in accordance with the international classification ISCO-08) to the 10 main classes (for displaying the share of jobseekers in each classes in the map, please click on "add to map" below:
0 - Members of the armed forces
1 - Legislators, executives
2 - Specialists
3 - Technicians and qualified workers
4 - Administrative staff
5 - Service and sales staff
6 - Skilled agricultural, forestry and fishery workers
7 - Skilled workers and craftsmen
8 - Machine operators and installers
9 - Ancillary and unskilled workers
BPZBZ - before registering without employment
The most popular work portal: www.profesia.sk, www.istp.sk
After downloading CSV file, the numbers of jobseekers in absolute numbers are also available.
Data available for last 12 months and are updated monthly - municipality level
Source: Central Office of Labour, Social Affairs and Family of SR
Simple
Date (Revision)

2020-04-01
Citation identifier

dce39f87-e72f-4359-ae7d-36c838d7ebab
Status

On going
Point of contact

| Organisation name | Individual name | Electronic mail address | Role |
| --- | --- | --- | --- |
| Ústredie práce, sociálnych vecí a rodiny SR | Ústredie práce, sociálnych vecí a rodiny SR | | Author |
Maintenance and update frequency

Monthly
Use constraints

Other restrictions
Other constraints

Creative Commons Attribution 4.0 International (CC BY 4.0)
Access constraints

Other restrictions
Other constraints
Spatial representation type

Vector
Denominator

50000
Language

Slovak [SK]
Character set

UTF8
Topic category
Reference system identifier

EPSG:3857
Distribution format
OnLine resource
Hierarchy level

Dataset
Conformance result
Alternate title

Commission Regulation (EU) No 1089/2010 of 23 November 2010 implementing

Directive 2007/2/EC of the European Parliament and of the Council as regards interoperability of

spatial data sets and services
Date (Publication)

2010-12-08
Explanation

Viď Nariadenie Komisie (EÚ) č. 1089/2010
Pass

No
Statement

Povinné - vyplniť / Mandatory (INSPIRE)
Metadata
File identifier

dce39f87-e72f-4359-ae7d-36c838d7ebab

XML
Metadata language

Slovak [SK]
Character set

UTF8
Hierarchy level

Dataset
Date stamp

2021-09-01T08:26:14
Metadata standard name

ISO 19115:2003/19139
Metadata standard version

1.0
Metadata author

| Organisation name | Individual name | Electronic mail address | Role |
| --- | --- | --- | --- |
| Prešovský samosprávny kraj - kontakt | Inštitút rozvoja PSK - GIS tím | | Point of contact |
Overviews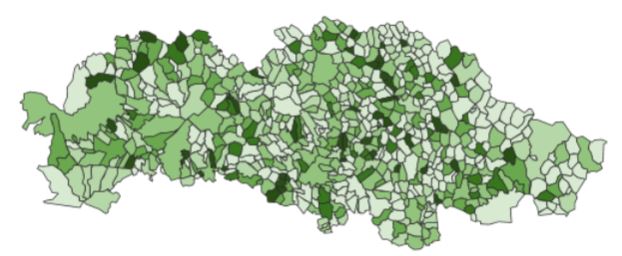 Spatial extent
Provided by
Associated resources
Not available