Disponibilité de gaz naturel
Disponibilitéit vun Erdgas
Disponibility of natural gas
Erdgasverfügbarkeit
Cette couche donne une indication concernant la disponibilité de gaz naturel sur une parcelle cadastrale. A petite échelle, les sections cadastrales sont coloriées selon le gestionnaire de réseau actif par commune. Ce sera soit Creos, soit Sudenergie soit la Ville de Dudelange. A grande échelle, les parcelles cadastrales sont coloriées en fonction de la présence d'une conduite de gaz à basse pression dans un rayon de 20m autour de la parcelle. On distingue entre la présence de conduites actives, inactives (conduite disponible, mais pas encore sous pression) et la non présence de conduites. Pour toute information supplémentaire concernant une parcelle, vous pouvez cliquer sur la parcelle afin d'obtenir les coordonnées de contact du gestionnaire de réseau ainsi que d'écrire un email préremplie directement depuis le site.
Dëse Layer gett Iech eng Informatioun iwwert d'Disponibilitéit vun Erdgas op enger bestëmmter Parzell. Am klenge Moossstab gin d'Kadastersektiounen faarweg duergestallt, je nodeem wéieen Netzbedreiwer do aktiv ass. Dëst ass entweder Creos, Sudenergie oder d'Stad Diddeleng. Am grousse Moossstab gin d'Parzelle agefierwt, je nodeem ob eng Gasleitung an engem Rayon vun 20m ronderem d'Parzell läit. Et gëtt en Ënnerscheed gemaach tëschent aktive Leitungen, inaktive Leitungen (Leitung do, mee nach net ënner Drock) a kenge Leitungen. Fir méi Informatiounen fir eng bestëmmte Parzell ze kréien, kënnt dir an d'Kaart klicken, fir d'Koordianten vum Netzbedreiwer gewisen ze kréien an eng vir-ausgefëllt Mail direkt vun do aus kënne fortzeschécken.
This layer gives an indication about the disponibility of natural gas for a given parcel. In a small scale, the cadastral sections are colorized according to the grid operator active in that cadastral section. This can be either Creos, Sudenergie or Dudelange city. In a bigger scale, cadastral parcels are colorized according to the fact that there is a gaz pipe ini a radius of 20m around the parcel. We make a difference between active pipes, inactive pipes (pipes present, but not yet under pressure) and the non presence of pipes. For further information about a given parcel, you can click into the map to get the contact details of the grid operator and send a prefilled email directly from the site.
Dieser Layer dient als Angabe zur Verfügbarkeit von Erdgas auf einer Parzelle. Im kleine Massstab werden die Katastersektionen eingefärbt dargestellt, je nach Netzbetreiber, der in dieser Sektion aktiv ist. Das ist entweder Creos, Sudenergie oder die Stadt Dudelingen. Im grossen Massstab, sind die Katasterparzellen eingefärbt, je nachdem Sie im Umfeld von 20 Metern von einer Gasleitung sind. Es wird unterscheidet zwischen aktiven Leitungen, inaktiven Leitungen (Leitung vorhanden, aber nicht unter Druck), und der Nichtverfügbarkeit von Erdgas. Für genauere Informatiounen zu einer bestimmten Parzelle, können Sie in die Karte klicken, um die Koordinaten des Netzbetreibers zu erhalten und von der Seite aus eine vorausgefüllte Email an den Netzbetreiber zu schicken.
Simple
Citation identifier

Citation identifier

Identifikator

Identificateur

/

9e04e366-fcb7-4836-8d09-41b20f280cb0
Presentation form

Presentation form

Präsentationsform

Forme de la présentation

Digital map

Digital map

Digitale Karte

Carte numérique
Status

Status

Bearbeitungsstatus

Etat

On going

On going

Kontinuierliche Aktualisierung

Mise à jour continue
Maintenance and update frequency

Maintenance and update frequency

Überarbeitungsintervall

Fréquence de mise à jour

As needed

As needed

Bei Bedarf

Lorsque nécessaire
Entités au Grand-Duché de Luxembourg

Grand-Duché du Luxembourg

Grand-Duché du Luxembourg

Grand-Duché du Luxembourg

Grand-Duché du Luxembourg
Keywords

énergie, gaz, gaz naturel
Keywords
Énergie>Disponibilité>Disponibilitéit

Grand Public>Infrastructure et communication>Fourniture d'énergie

Grand Public>Infrastructure et communication>Fourniture d'énergie>Energieversuergung

Main>Infrastructure and communication>Energy supply

Allgemein>Infrastruktur und Kommunikation>Energieversorgung
Access constraints

Access constraints

Zugriffseinschränkungen

Contraintes d'accès

Other restrictions

Other restrictions

Benutzerdeifinierte Einschränkungen

Autres restrictions
Spatial representation type

Spatial representation type

Räumliche Darstellungsart

Type de représentation spatiale

Vector

Vector

Vektor

Vecteur
Denominator

Denominator

Massstabszahl

Dénominateur de l'échelle

0
Character set

Character set

Zeichensatz

Encodage des caractères

UTF8

UTF8

Utf8

Utf8
Reference system identifier

Reference system identifier

Identifikator des Referenzsystems

Nom du système de référence

EPSG

/

http://www.opengis.net/def/crs/EPSG/0/2169
Metadata
File identifier

File identifier

Metadatensatzidentifikator

Identifiant de la fiche

9e04e366-fcb7-4836-8d09-41b20f280cb0

XML
Metadata language

Metadata language

Sprache

Langue

Français
Character set

Character set

Zeichensatz

Jeu de caractères

UTF8

UTF8

Utf8

Utf8
Hierarchy level

Hierarchy level

Hierarchieebene

Type de ressource

Dataset

Dataset

Datenbestand

Jeu de données
Hierarchy level name

dataset
Date stamp

Date stamp

Datum

Date des métadonnées

2021-07-02T12:09:21
Metadata standard name

ISO 19115:2003/19139
Metadata standard version

1.0
Metadata author

Organisation name
Individual name
Electronic mail address
Role

Administration du Cadastre et de la Topographie

Service Géoportail

Point of contact

Point of contact

Ansprechpartner

Point de contact
Other language

Language
Character encoding

Luxembourgish; Letzeburgesch

Luxembourgish; Letzeburgesch

Luxemburgisch

Luxembourgeois

UTF8

UTF8

Utf8

Utf8

English

English

Englisch

Anglais

UTF8

UTF8

Utf8

Utf8

German

German

Deutsch

Allemand

UTF8

UTF8

Utf8

Utf8

French

French

Französisch

Français

UTF8

UTF8

Utf8

Utf8
Overviews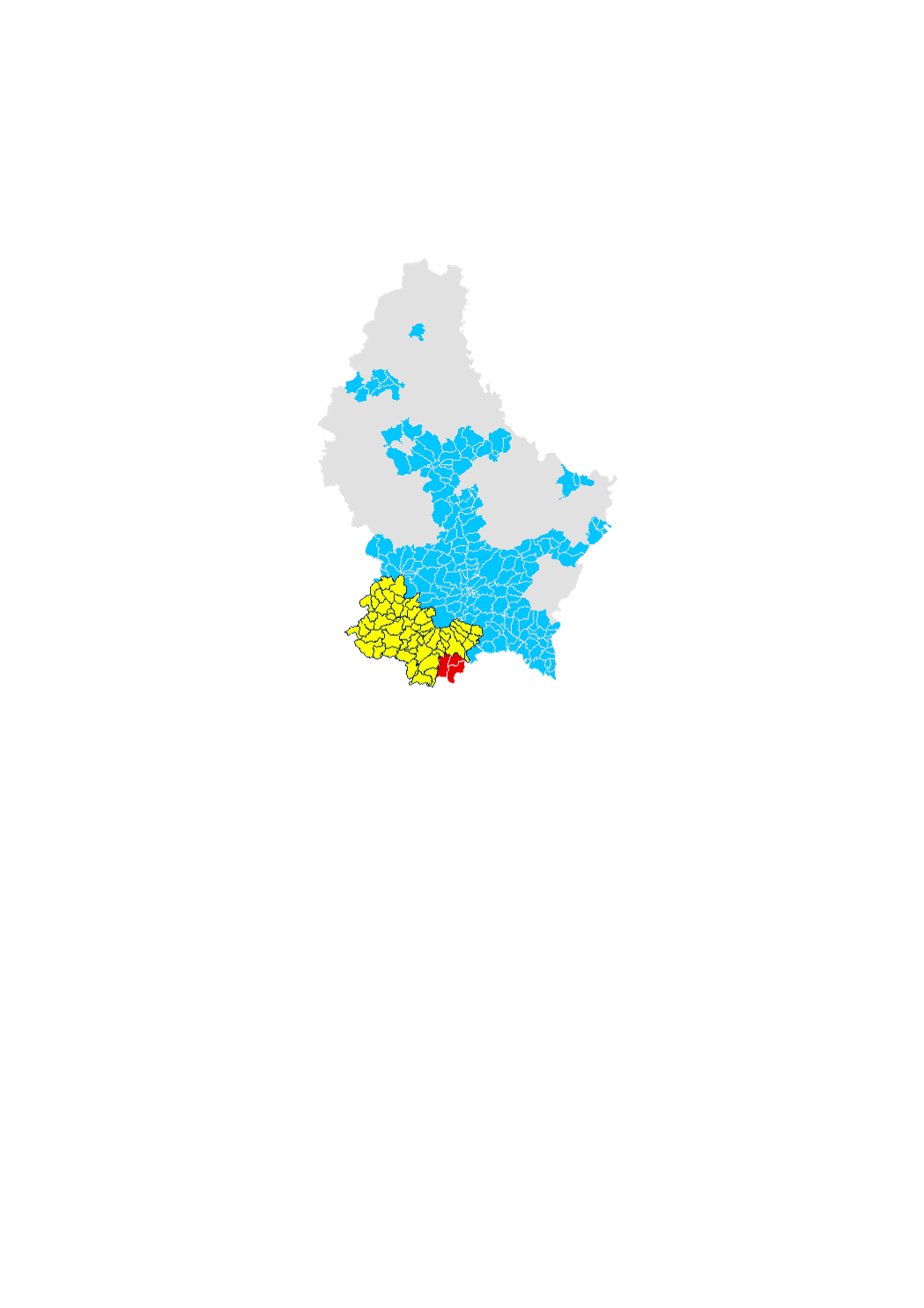 Spatial extent
Provided by
Associated resources
Not available