Surfaces 3D sur Rennes Métropole
Cette couche de surfaces renseignées d'une information en altitude (Z) combinée avec un Modèle Numérique de Terrain (MNT) est utilisée pour améliorer la représentation du sol dans le cadre d'exploitations 3D mises en œuvre sur le territoire de Rennes Métropole.
Cette couche est à combiner avec la couche des Lignes de rupture de pente en 3D sur Rennes Métropole (uuid : 0c5751d6-ea8f-4f6a-a4bd-5cca2e3ce476).
Elle représente les surfaces 3D de certains éléments du sol notamment :
- Le tablier des ponts ;
- L'emprise des escaliers ;
- Les surfaces d'eau saisies à la limite entre eau et sol. La surface d'eau est horizontale renseignée d'un Z qui correspond à l'altitude moyenne des points du modèle numérique de terrain sur la zone
Précision des surfaces 3D :
- EMQ XY ~ 20 cm
- EMQ Z ~ 30 cm
Le système de référence altimétrique est l'IGN69.
Simple
Alternate title

Surfaces 3D
Alternate title

ref_alti.surface_3d
Date (Creation)

2014-09-01
Date (Revision)

2021-07-01
Citation identifier

https://public.sig.rennesmetropole.fr/geonetwork/srv/fre/xml.metadata.get?uuid=957fc372-a392-43c8-b480-1f3c7b92b27f
Purpose

Disposer d'une information d'altitude du terrain précise et fiable de façon homogène sur tout le territoire de la métropole.
Status

Completed
Point of contact

| Organisation name | Individual name | Electronic mail address | Role |
| --- | --- | --- | --- |
| Rennes Métropole - Service Information Géographique | Service Information Géographique | | Point of contact |
Maintenance and update frequency

Not planned
GEMET - INSPIRE themes, version 1.1
GEMET
GéoBretagne v 2.0
RM Diffusion v 1.2
Use limitation

Réutilisation libre sous réserve de la mention obligatoire suivante : "source : Surfaces 3D sur Rennes Métropole - Rennes Métropole"
Use limitation

Licence ODbL 1.0
Access constraints

Other restrictions
Use constraints

License
Other constraints

Pas de restriction d'accès public
Distance

0.2  m
Language

Français
Character set

UTF8
Topic category
Reference system identifier

RGF93 / CC48 (EPSG:3948)
Reference system identifier

EPSG

/

NGF IGN69 height (EPSG:5720)

/

7.9
Topology level

Abstract
Geometric object type

Surface
Distribution format
OnLine resource
Hierarchy level

Dataset
Statement

Ces surfaces 3D ont fait l'objet d'une numérisation initiale en 2014 par photo-restitution (sur la Ville de Rennes) et par corrélation automatique (en dehors de la Ville de Rennes). Elles ont fait l'objet de 2 mises à jour par photo-restitution d'abord sur la base d'une nouvelle prise de vues aériennes réalisée sur les années 2017-2018 puis sur une autre réalisée durant l'été 2021.
Metadata
File identifier

957fc372-a392-43c8-b480-1f3c7b92b27f

XML
Metadata language

Français
Character set

UTF8
Hierarchy level

Dataset
Date stamp

2023-08-09T13:30:08
Metadata standard name

ISO 19115:2003/19139
Metadata standard version

1.0
Metadata author

| Organisation name | Individual name | Electronic mail address | Role |
| --- | --- | --- | --- |
| Rennes Métropole | Stéphane GELIN - Service Information Géographique | | Point of contact |
Overviews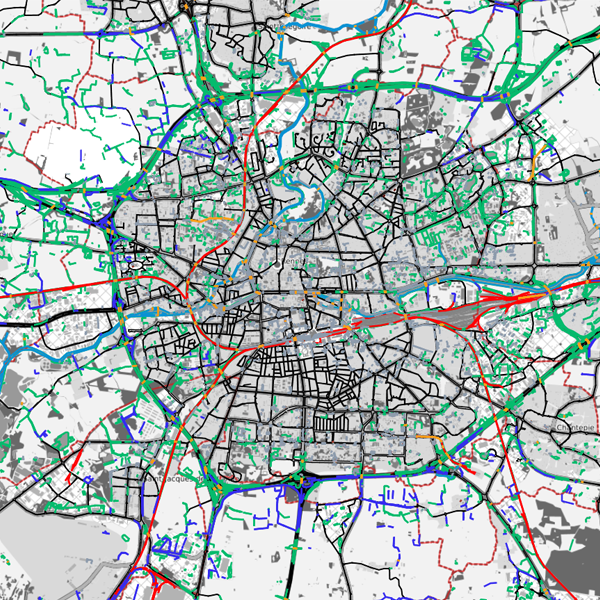 Spatial extent
Provided by
Associated resources
Not available