Grille de 25×25 km d'accès aux données météorologiques Agri4cast sur la France
Meteorological observations from weather stations interpolated on a 25x25 km grid in France
Données météorologiques Agri4cast basées sur des observations et spatialisées sous la forme d'une grille composée de mailles carrées de 625 km² (25 km ×25 km) sur la France.
La table attributaire de cette couche permet d'établir le lien entre l'objet géographique (la maille) et les chroniques d'observation météorologiques via un service conforme au standard OGC SensorThings ( https://api.geosas.fr/agri4cast/v1.0/)
Les observations sont :
- température maximale de l'air (°C),
- température minimale de l'air (°C),
- température moyenne de l'air (°C),
- vitesse moyenne quotidienne du vent à 10 m (m/s),
- pression atmosphérique (hPa),
- précipitations cumulées (mm/jour),
- évapotranspiration potentielle d'un couvert végétal (mm/jour),
- rayonnement global total (KJ/m2/jour).
Les données météorologiques sont quotidiennes de 1979 à la dernière année civile révolue. Plus d'informations sur le portal Agri4cast : https://agri4cast.jrc.ec.europa.eu/DataPortal/Index.aspx
Meteorological observations from weather stations interpolated on a 25x25 km grid, on a daily basis from 1979 to the last calendar year completed, for France.
Meteorological observations are freely accessible via OGC SensorThings Standard service : https://api.geosas.fr/agri4cast/v1.0/
Observed properties :
- maximum air temperature (°C),
- minimum air temperature (°C),
- mean air temperature (°C),
- mean daily wind speed at 10m (m/s),
- vapour pressure (hPa),
- sum of precipitation (mm/day),
- potential evapotranspiration from a crop canopy (mm/day),
- total global radiation (KJ/m2/day),
More informations on Agri4cast Resources Portal : https://agri4cast.jrc.ec.europa.eu/DataPortal/Index.aspx
Overviews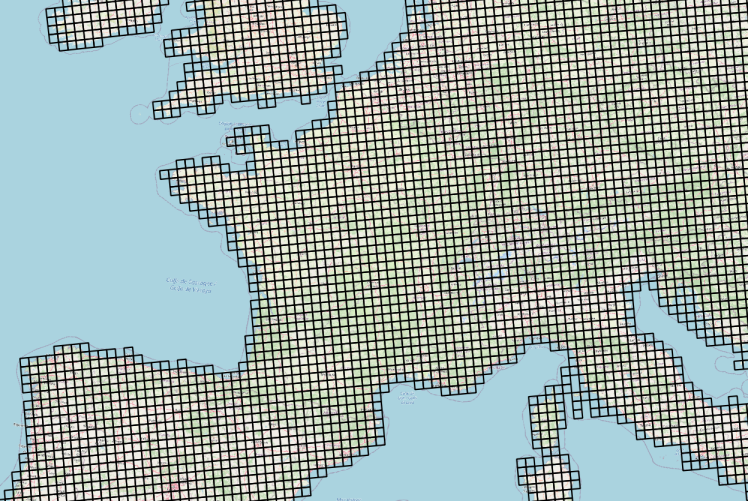 Spatial extent
Provided by
Associated resources
Not available