Feuilles cadastrales historiques
Kadaster Urpläng
Historical cadastral sheets
Kataster Urpläne
Cette couche contient les contours des feuilles du plan cadastral d'origine pour le territoire actuel du Grand-Duché de Luxembourg, tel que ce dernier a été mesuré, relevé et dessiné entre environ 1811 et 1832. Chaque contour contient le lien vers le document scanné en question. Ces documents peuvent être ouverts et téléchargés dans le géoportail sous forme de PNG. Il s'agit du jeu du plan cadastral d'origine, qui a été conservé pendant des décennies aux archives de l'administration du cadastre et de la topographie. Pendant l'ère de leur utilisation à l'époque, tous les changements au niveau des parcelles étaient apportées sur ces planches par rayure, effacement et dessin. Ce fait, ainsi que l'usage régulier des feuilles, explique l'état parfois non optimal de certaines feuilles. Un 2e jeu de plans d'origine est conservé aux archives nationales.
Dese Layer enthält d'Konturen vun de Kaarteblieder vum Urkadasterplang fir dat aktuellt Gebitt vum Groussherzogtum Lëtzebuerg, sou wéi hien zwëschen ongeféier 1811 an 1832 erstallt an weidergeféiert ginn ass. All Kontur enthält ee Link op dat gescanntent Dokument, dat opgemaach an erof gelueden ka ginn a Form vun enger PNG-Datei. Et handelt sech ëm d'Versioun vum Urkadaster, déi während Jorzéngten an den Archiven vun der Administration du Cadastre et de la Topographie versuergt gouf. An der Zäit vun hirer Gëltegkeet goufen des Pläng dozou benotzt fir all Verännerungen bei de Parzellen anzedroen iwwert Duerchsträichen an Neizeechnen. Dat, sou wéi déi intensiv Benotzung, erklärt och den deelweis nit optimalen Zoustand vun verschidden Blieder. Een aneren Jeu gëtt an den Nationalarchiven versuergt.
This layer contains the contours of the map sheets of the original cadastral map for the actual territory of the Grand-Duchy of Luxembourg, as it has been created and updated between 1811 and 1832. Every polygon contains a link to the scanned document, that can be opened and downloaded in form of PNG files. It is one the set, which has been kept in the archives of the administration du cadastre et de la topographie. At the time of their original use, all the modifications that occured to the parcels were recorded on the map sheets themselves by erasing and drawing. This, as well as their regular use, may explain the imperfect state of some particular map sheets. A 2nd set of map sheets is kept in the national archives.
Dieser Layer enthält die Umrisse der Blätter des Urkatasterplans für das aktuelle Staatsgebiet von Luxemburg, in der Form wie dieser von ungefähr 1811 bis 1832 gemessen, erfasst und gezeichnet wurde. Jeder Umrisspolygon enthält einen Link zum gescannten Kartenblatt, welches in Form einer PNG-Datei einsehbar ist und herunter geladen werden kann. Es handelt sich hierbei um die Version des Urkatasterplans, welche im Archiv der Administration du Cadastre et de la Topographie seit Jahrzehnten aufbewahrt worden ist. In der Zeit ihrer aktiven Benutzung wurden sämtliche Veränderungen bei den Parzellen auf diesen Blättern durch Ausradieren und Neuzeichnen vorgenommen, welches, zusammen mit der regelmässigen Benutzung, den teilweise suboptimalen Zustand einiger Kartenblätter erklärt. Ein 2. Kartensatz befindet sich im Nationalarchiv.
Simple
Date (Creation)

Date (Creation)

Datumsangaben (Erstellung)

Date (Création)

1824-01-01T00:00:00
Date (Revision)

Date (Revision)

Datumsangaben (Überarbeitung)

Date (Révision)

1849-01-01T00:00:00
Citation identifier

Citation identifier

Identifikator

Identificateur

/

51333029-c8cf-490f-b4a6-80ba239f0cb4
Presentation form

Presentation form

Präsentationsform

Forme de la présentation

Digital map

Digital map

Digitale Karte

Carte numérique
Status

Status

Bearbeitungsstatus

Etat

On going

On going

Kontinuierliche Aktualisierung

Mise à jour continue
Point of contact

Organisation name
Individual name
Electronic mail address
Role

Administration du Cadastre et de la Topographie

Administration du Cadastre et de la Topographie

Topographie@act.eta Topographie@act.etat.lu

Distributor

Distributor

Vertrieb

Distributeur

Administration du Cadastre et de la Topographie

Administration du Cadastre et de la Topographie

Topographie@act.eta Topographie@act.etat.lu

Custodian

Custodian

Verwalter

Gestionnaire

Administration du Cadastre et de la Topographie

Administration du Cadastre et de la Topographie

Topographie@act.eta Topographie@act.etat.lu

User

User

Nutzer

Utilisateur

Administration du Cadastre et de la Topographie

Administration du Cadastre et de la Topographie

Topographie@act.eta Topographie@act.etat.lu

Point of contact

Point of contact

Ansprechpartner

Point de contact
Maintenance and update frequency

Maintenance and update frequency

Überarbeitungsintervall

Fréquence de mise à jour

As needed

As needed

Bei Bedarf

Lorsque nécessaire
Entités au Grand-Duché de Luxembourg

Grand-Duché du Luxembourg

Grand-Duché du Luxembourg

Grand-Duché du Luxembourg

Grand-Duché du Luxembourg
Keywords

plan cadastral, cadastre, origine, parcelle

Urkadaster, Kadaster, Kadasterplang, Plang

Origin, plan, map, cadastre, original, map sheet

Urkataster, Katasterplan, Plan, Ursprung, Parzelle
Keywords
Urban Farming>Parcelles cadastrales

Urban Farming>Parcelles cadastrales>Kadasterparzellen

Urban Farming>Cadastral data

Urban Farming>Katasterparzellen

Grand Public>Données de base>Parcelles cadastrales

Grand Public>Données de base>Parcelles cadastrales>Kadasterparzellen

Main>Geographical location>Cadastral data

Allgemein>Basisdaten>Katasterparzellen
Access constraints

Access constraints

Zugriffseinschränkungen

Contraintes d'accès

Other restrictions

Other restrictions

Benutzerdeifinierte Einschränkungen

Autres restrictions
Other constraints

Attribution 4.0 International (CC BY 4.0)
Spatial representation type

Spatial representation type

Räumliche Darstellungsart

Type de représentation spatiale

Vector

Vector

Vektor

Vecteur
Denominator

Denominator

Massstabszahl

Dénominateur de l'échelle

2500
Language

Language

Sprache

Langue de la ressource

ltz
Language

Language

Sprache

Langue de la ressource

Français
Language

Language

Sprache

Langue de la ressource

Deutsch
Language

Language

Sprache

Langue de la ressource

English
Character set

Character set

Zeichensatz

Encodage des caractères

UTF8

UTF8

Utf8

Utf8
Topic category

Topic category

Thematik

Catégorie ISO

Planning cadastre

Planning cadastre

Planungsunterlagen, Kataster

Cadastre, aménagement

Boundaries

Boundaries

Grenzen

Limites politiques et administratives
Reference system identifier

Reference system identifier

Identifikator des Referenzsystems

Nom du système de référence

EPSG

/

http://www.opengis.net/def/crs/EPSG/0/2169
OnLine resource
OnLine resource
Statement

Planches scannées non référencées
Metadata
File identifier

File identifier

Metadatensatzidentifikator

Identifiant de la fiche

51333029-c8cf-490f-b4a6-80ba239f0cb4

XML
Metadata language

Metadata language

Sprache

Langue

Français
Character set

Character set

Zeichensatz

Jeu de caractères

UTF8

UTF8

Utf8

Utf8
Hierarchy level

Hierarchy level

Hierarchieebene

Type de ressource

Dataset

Dataset

Datenbestand

Jeu de données
Hierarchy level name

dataset
Date stamp

Date stamp

Datum

Date des métadonnées

2022-08-11T12:09:32
Metadata standard name

ISO 19115:2003/19139
Metadata standard version

1.0
Metadata author

Organisation name
Individual name
Electronic mail address
Role

Administration du Cadastre et de la Topographie

Service du géoportail et de l'ILDG (ACT)

Point of contact

Point of contact

Ansprechpartner

Point de contact
Other language

Language
Character encoding

Luxembourgish; Letzeburgesch

Luxembourgish; Letzeburgesch

Luxemburgisch

Luxembourgeois

UTF8

UTF8

Utf8

Utf8

English

English

Englisch

Anglais

UTF8

UTF8

Utf8

Utf8

German

German

Deutsch

Allemand

UTF8

UTF8

Utf8

Utf8

French

French

Französisch

Français

UTF8

UTF8

Utf8

Utf8
Overviews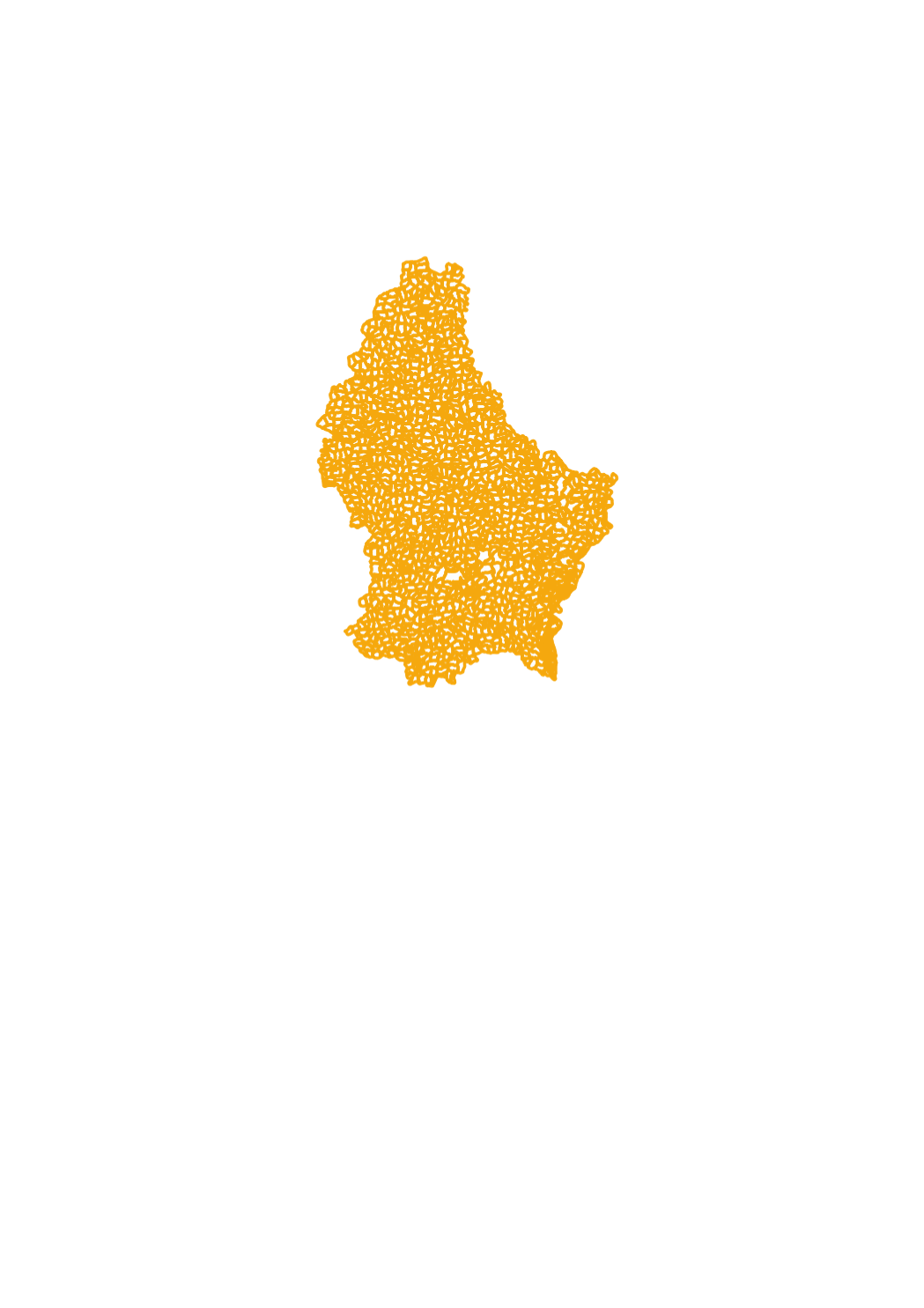 Spatial extent
Provided by
Associated resources
Not available