Concentrations moyennes annuelles de polluants dans l'air ambiant issues du réseau permanent de mesures automatiques en 2019 en région Auvergne-Rhône-Alpes
Concentrations moyennes annuelles issues du réseau fixe des principaux polluants réglementés dans l'air sur la région Auvergne-Rhône-Alpes : dioxyde de soufre SO2, oxydes d'azote NOx et dioxyde d'azote NO2, particules en suspension PM10, particules en suspension PM2.5, ozone O3, benzène C6H6, monoxyde de carbone CO. Toutes les données fournies sont en μg/m³ (microgramme par mètre cube) sauf CO (mg/m³). 5 ans glissant.
Simple
Date (Publication)

2019-08-10T00:00:00
Citation identifier

fr-534194541-mesures-calc-poll-aura-an-aaaa
Status

Completed
Point of contact

| Organisation name | Individual name | Electronic mail address | Role |
| --- | --- | --- | --- |
| Atmo Auvergne-Rhône-Alpes | | | Owner |
Maintenance and update frequency

Annually
Place

contrôle de la qualité de l'air

polluant atmosphérique

concentration de polluant

données ouvertes

open data

NO2

PM10

O3

PM2.5

CO

SO2

Benzène

Dioxyde d'azote

Dioxyde de soufre

Particules PM10

Particules PM2.5

Ozone

Monoxyde de carbone
GEMET - INSPIRE themes, version 1.0

Installations de suivi environnemental
Access constraints

Copyright
Other constraints

Licence ODbL - Mentions: "Source ATMO Auvergne - Rhône-Alpes : Mesure de la pollution atmosphérique sur la région Auvergne - Rhône-Alpes "
Spatial representation type

Vector
Denominator

100000
Language

fre
Character set

UTF8
Topic category

Climatology, meteorology, atmosphere

Environment
Description

Auvergne - Rhône-Alpes
Begin date

2013-01-01
End date

2018-12-31
Supplemental Information

Historique sur 5 an glissant
Reference system identifier

EPSG

/

RGF93 / Lambert-93 (EPSG:2154)

/

7.4
Distribution format
OnLine resource
Hierarchy level

Dataset
Conformance result
Date (Publication)

2010-11-23T00:00:00
Explanation

Non évalué
Pass

No
Statement

Mesures de terrain automatiques. Les concentrations moyennes calculées sont issues d'un processus qualité qui est conforme aux préconisations et recommandations du référentiel métier du Laboratoire Central de Surveillance de la Qualité de l'Air (LCSQA) tant au niveau de l'instrumentation que des pratiques de maintenance et de contrôle. À chaque donnée est attaché un code indiquant si la donnée a été validée ou non par un opérateur.

Les données annuelles diffusées correspondent aux mesures du réseau permanent et aux mesures annuelles ayant fonctionné au cours des cinq dernières années.




Lors du calcul de statistiques à partir des données diffusées, s'il lui est associé un objectif environnemental (valeur limite / cible, seuil d'alerte…), une statistique est communiquée avec le même nombre de décimales que ce dernier puis lui est comparée ; en l'absence de tel objectif, elle est arrondie selon les règles commerciales, à savoir :

- Si la valeur est supérieure à 10, nombre entier

- Si la valeur est comprise entre 1 et 10, une décimale

- Si la valeur est comprise entre 0.1 et 1, 2 décimales

- Si la valeur est comprise entre 0.01 et 0.1, 3 décimales …




Exemple de comparaison à un seuil :

Moyenne annuelle PM2.5 :

Valeur limite annuelle : 25 µg/m3

Moyenne annuelle 1 avant arrondi : 25.6 µg/m3

Moyenne annuelle 1 après arrondi : 26 µg/m3

Dépassement de seuil : OUI




Moyenne annuelle 2 avant arrondi : 25.4 µg/m3

Moyenne annuelle 2 après arrondi : 25 µg/m3

Dépassement de seuil : NON
Metadata
File identifier

4fe8b494-ee49-477a-992c-ded2ec31eec3

XML
Metadata language

fre
Character set

UTF8
Hierarchy level

Dataset
Date stamp

2021-03-19T15:49:19
Metadata standard name

ISO 19115:2003/19139
Metadata standard version

1.0
Metadata author

| Organisation name | Individual name | Electronic mail address | Role |
| --- | --- | --- | --- |
| Atmo Auvergne-Rhône-Alpes | | | Point of contact |
Overviews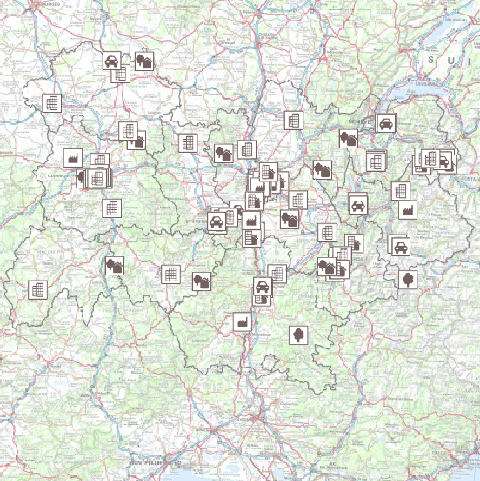 Spatial extent
Provided by
Associated resources
Not available