Responsables politiques des principaux territoires administratifs du Rhin Supérieur
Verantwortliche des wichtigsten Institutionen und Gebietskörperschaften am Oberrhein
Political leaders of the main administrative territories of the Upper Rhine
Carte interactive représente les différents responsables politiques du Rhin Supérieur.
Interaktive Karte, die die verschiedenen politischen Entscheidungsträger am Oberrhein darstellt.
Interactive map showing the different political leaders of the Upper Rhine.
Simple
Datumsangaben (Erstellung)

Date (Creation)

Date (Création)

2022-10-01
Datumsangaben (Publikation)

Date (Publication)

Date (Publication)

2022-10-24T08:33:49
Datumsangaben (Überarbeitung)

Date (Revision)

Date (Révision)

2023-01-18
Präsentationsform

Presentation form

Forme de la présentation

Digitale Karte

Digital map

Carte numérique
Bearbeitungsstatus

Status

Etat

Abgeschlossen

Completed

Finalisé
Point of contact

Organisation name
Individual name
Electronic mail address
Role

Autor

Author

Auteur
Sprache

Language

Langue de la ressource

Français
Identifikator des Referenzsystems

Reference system identifier

Nom du système de référence

EPSG:3857
Distribution format
OnLine resource

Protocol
Linkage
Name

WWW:LINK-1.0-http--related

https://geoportal.georhena.eu/mviewer/?config=apps/elus_crs.xml

Les responsables politiques des principaux territoires administratifs du Rhin Supérieur

Die politischen Verantwortlichen der wichtigsten Verwaltungsgebiete am Oberrhein

The political leaders of the main administrative territories of the Upper Rhine
Datenqualität
Data quality info
Informations sur la qualité des données
No information provided.
Metadata
Metadatensatzidentifikator

File identifier

Identifiant de la fiche

2fc47f5b-feac-411f-b1d5-89d4e0c6de3f

XML
Metadata language

fre
Zeichensatz

Character set

Jeu de caractères

Utf8

UTF8

Utf8
Hierarchieebene

Hierarchy level

Type de ressource

Interactive map

Interactive map

Carte interactive
Hierarchy level name

1.0
Datum

Date stamp

Date des métadonnées

2023-01-18T14:24:34.696499Z
Metadata standard name

ISO 19115:2003/19139
Metadata standard version

1.0
Metadata author

Organisation name
Individual name
Electronic mail address
Role

Autor

Author

Auteur
Other language

Language
Character encoding

Deutsch

German

Allemand

Utf8

UTF8

Utf8

Englisch

English

Anglais

Utf8

UTF8

Utf8

Französisch

French

Français

Utf8

UTF8

Utf8
Overviews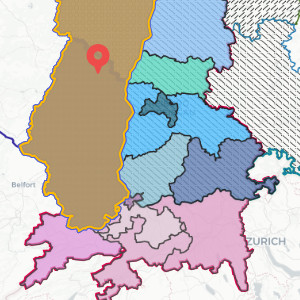 Spatial extent
Provided by
Associated resources
Not available