Vue d'ensemble des ponts 3D
Iwwersiicht 3D Brecken
Overview 3D bridges
Überblick 3D Brücken
Cette couche contient une compilation des identifiants et géométries 2D dérivées des tous les ponts 3D (modélisés en classification LOD 3 ou extraits automatiquement en LOD 1) disponibles dans le web viewer 3D du Géoportail et sur le portail Open Data. A noter que les ponts créés par le Service Topographie et géomatique de la Ville de Luxembourg (préfixe "VdL") ne sont pas disponibles au téléchargement.
Dëse Layer ëmfaasst eng Zesummestellung mat den Identifikatoren an ofgeleeten 2D Geometrien vun allen 3D Brécken (modelléiert mat LOD 3-Klassifikatioun oder automatesch extraéiert als LOD 1), déi am 3D Viewer vum Geoportal an um Open Data Portal disponibel sinn. Ze beuechten ass, dass d'Brécken, déi vum Service Topographie et géomatique vun der Stad Lëtzebuerg erstallt goufen, net kënnen erofgelueden ginn.
This layer contains a compilation with the identifiers and derived 2D geometries derived from all 3D bridges (modeled as LOD 3 classification or automatically extracted in LOD 1) available in the 3D viewer of the Geoportal as well as on the Open Data Portal. Please note that the bridges created by the Service Topographie et géomatique of Luxembourg City (prefix "VdL") are not available to download.
Dieser Layer enthält eine Zusammenstellung der Identifikatoren und abgeleiteten 2D-Geometrien aller 3D Brücken (modelliert nach LOD 3-Klassifikation oder automatisch extrahiert als LOD 1), die im 3D Viewer des Geoportals und auf dem Open Data Portal verfügbar sind. Zu beachten ist, dass die vom Service Topographie et géomatique der Stadt Luxemburg erstellten Brücken (Präfix "VdL") nicht zum Download bereitstehen.
Simple
Citation identifier

Citation identifier

Identifikator

Identificateur

/

2b7d36db-987f-49b4-96d7-60e934ddf926
Presentation form

Presentation form

Präsentationsform

Forme de la présentation

Digital map

Digital map

Digitale Karte

Carte numérique
Status

Status

Bearbeitungsstatus

Etat

On going

On going

Kontinuierliche Aktualisierung

Mise à jour continue
Point of contact

Organisation name
Individual name
Electronic mail address
Role

Administration du Cadastre et de la Topographie

Administration du Cadastre et de la Topographie

Topographie@act.eta Topographie@act.etat.lu

Point of contact

Point of contact

Ansprechpartner

Point de contact
Maintenance and update frequency

Maintenance and update frequency

Überarbeitungsintervall

Fréquence de mise à jour

As needed

As needed

Bei Bedarf

Lorsque nécessaire
Entités au Grand-Duché de Luxembourg

Grand-Duché du Luxembourg

Grand-Duché du Luxembourg

Grand-Duché du Luxembourg

Grand-Duché du Luxembourg
Keywords
Keywords
Keywords
Grand Public>Modèles altimétriques numériques (BD-L-LiDAR)>Produits dérivés

Grand Public>Modèles altimétriques numériques (BD-L-LiDAR)>Ofgeleeten Produitën

Main>Digital elevation model (BD-L-LiDAR)>Derivated products

Allgemein>Digitales Höhenmodell (BD-L-LiDAR)>Abgeleitete Produkte
Use constraints

Use constraints

Nutzungseinschränkungen

Contraintes d'utilisation

Other restrictions

Other restrictions

Benutzerdeifinierte Einschränkungen

Autres restrictions
Other constraints

Creative Commons 1.0 Universal (CC0 1.0) Public Domain Dedication
Spatial representation type

Spatial representation type

Räumliche Darstellungsart

Type de représentation spatiale

Vector

Vector

Vektor

Vecteur
Denominator

Denominator

Massstabszahl

Dénominateur de l'échelle

0
Character set

Character set

Zeichensatz

Encodage des caractères

UTF8

UTF8

Utf8

Utf8
Reference system identifier

Reference system identifier

Identifikator des Referenzsystems

Nom du système de référence

EPSG

/

http://www.opengis.net/def/crs/EPSG/0/2169
Metadata
File identifier

File identifier

Metadatensatzidentifikator

Identifiant de la fiche

2b7d36db-987f-49b4-96d7-60e934ddf926

XML
Metadata language

Metadata language

Sprache

Langue

Français
Character set

Character set

Zeichensatz

Jeu de caractères

UTF8

UTF8

Utf8

Utf8
Hierarchy level

Hierarchy level

Hierarchieebene

Type de ressource

Dataset

Dataset

Datenbestand

Jeu de données
Hierarchy level name

dataset
Date stamp

Date stamp

Datum

Date des métadonnées

2023-01-31T14:02:53
Metadata standard name

ISO 19115:2003/19139
Metadata standard version

1.0
Metadata author

Organisation name
Individual name
Electronic mail address
Role

Administration du Cadastre et de la Topographie

Administration du Cadastre et de la Topographie

Topographie@act.eta Topographie@act.etat.lu

Point of contact

Point of contact

Ansprechpartner

Point de contact
Other language

Language
Character encoding

Luxembourgish; Letzeburgesch

Luxembourgish; Letzeburgesch

Luxemburgisch

Luxembourgeois

UTF8

UTF8

Utf8

Utf8

English

English

Englisch

Anglais

UTF8

UTF8

Utf8

Utf8

German

German

Deutsch

Allemand

UTF8

UTF8

Utf8

Utf8

French

French

Französisch

Français

UTF8

UTF8

Utf8

Utf8
Overviews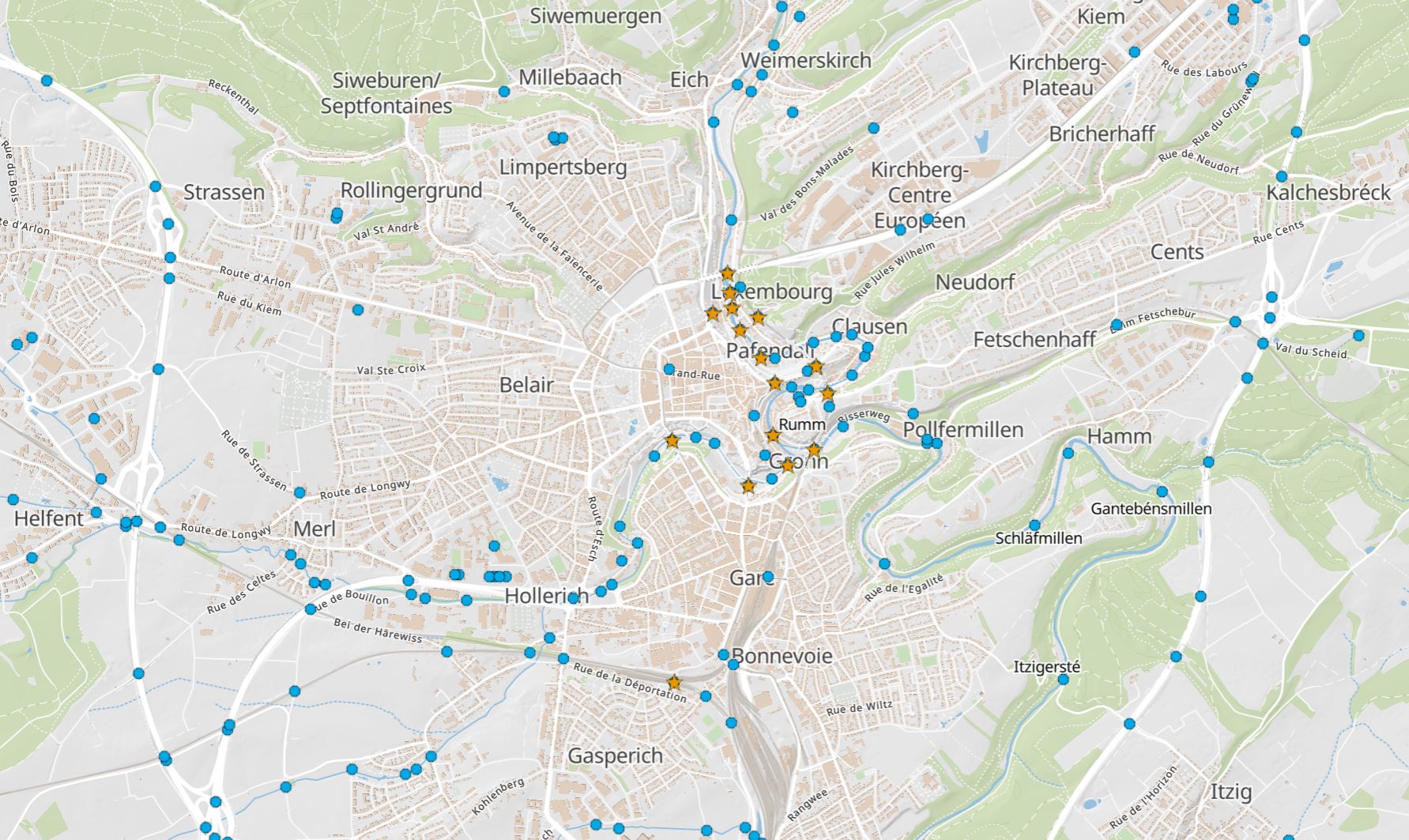 Spatial extent
Provided by
Associated resources
Not available