Objets géologique linéaires structuraux
Cette couche SIG décrit, sous forme de lignes, les objets géologiques linéaires liés aux
structures d'origine tectonique et visibles sur la carte. Cette couche est décrite par la
table L_STRUCT qui contient quatre champs attributaires :
Carte: il s'agit du numéro d'ordre de la carte géologique dans le lexique national des
cartes géologiques de France à 1/50 000;
Code : il s'agit d'un champ numérique qui identifie de façon unique chaque famille
d'objets ou de type d'objets linéaires d'origine structurale.
Description : ce champ de type caractère renseigne sur la nature et les conditions
d'observation de l'objet concerné, (visible sur le terrain ou déduit de la cartographie).
Attribut: ce champ donne une précision complémentaire sur un type d'objet classé
dans le lexique nationale. Il peut s'agir par exemple, du nom local attribué à une faille
ou à une structure particulière
Descriptif des cartes
géologiques à 1/50 000
format "vecteurs"
Rapport « final»
BRGM/R P-53473- FR
Novembre 2004
Date d'extraction des données Geolittorales le : 05/01/2022
Simple
Date (Creation)

2022-01-14
Purpose

Visualiser les objets géologiques linéaires liés aux

structures d'origine tectonique sur le territoire de LTC
Status

Completed
Point of contact

| Organisation name | Individual name | Electronic mail address | Role |
| --- | --- | --- | --- |
| Lannion-Trégor Communauté | Service Développement, Data et Géomatique | sig.support@lannion-tregor.com | Custodian |
Maintenance and update frequency

As needed
Maintenance note

Les points de suivi peuvent évoluer chaque année.
Theme
Use limitation

Usage libre sous réserve des mentions obligatoires sur tout document de diffusion : "Source : Lannion-Trégor Communauté"
Use limitation

Licence ouverte : https://www.etalab.gouv.fr/licence-ouverte-open-licence
Access constraints

Other restrictions
Use constraints

License
Other constraints

Pas de restriction d'accès public
Spatial representation type

Vector
Denominator

25000
Language

fre
Topic category
Reference system identifier

EPSG:3948
Topology level

Geometry only
Geometric object type

Curve
Distribution format

| Name | Version |
| --- | --- |
| ESRI Shapefile | 1.0 |
OnLine resource
Hierarchy level

Dataset
Conformance result
Date (Publication)
Explanation

Non évalué
Pass

No
Metadata
File identifier

028f70f2-5285-4a3e-aeb8-ffefb60d0973

XML
Metadata language

fre
Character set

UTF8
Hierarchy level

Dataset
Date stamp

2022-04-13T14:07:04
Metadata standard name

ISO 19115
Metadata author

| Organisation name | Individual name | Electronic mail address | Role |
| --- | --- | --- | --- |
| Lannion-Trégor Communauté | Service Développement, Data et Géomatique | sig.support@lannion-tregor.com | User |
| BRGM | 3, avenue Claude-Guillemin BP 6009 45060 – Orléans Cedex 2 – France | | Owner |
Overviews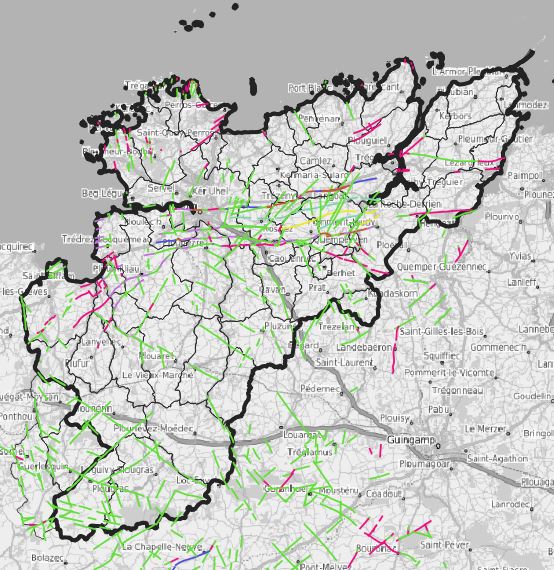 Spatial extent
Provided by
Associated resources
Not available